September
Grain harvest commences in late August and continues through most of September.
The first frost usually arrives around September 10th here in Saskatchewan.
October
Often alfalfa seed crops are harvested in October.  My combines have modified concaves for extra threshing and need to be finely tuned to do a good job.
Typically by October 31st the ground is frozen bringing fieldwork to an end.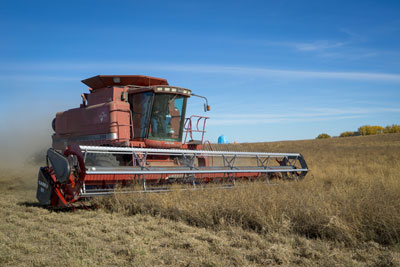 Photo by Gene Pavelich Photography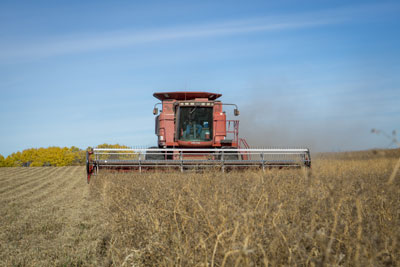 Photo by Gene Pavelich Photography
Notice the wide row spacing of 24 inches as the field is combined
November
Leafcutter bee samples can be professionally x-rayed to provide live counts for marketing purposes.
Time to market grain and plan alfalfa seed movement.
December
Cold weather (-20C) brings the humidity in the warehouse down. When the humidity is below 30% nest splitting commences. If the blocks are split and punched prematurely the delicate cocoons tend to crush in the extraction process, killing the larvae inside. When the nests are split and stacked flat they ready for punching.
January and February
The nests are stripped of their larvae with bee punching machines to harvest loose cell cocoons. The loose bees are bagged and stacked.
Nesting material is put back together with straps and stacked ready to go back to the field.
We have described and illustrated the twelve month cycle for our alfalfa seed and leafcutter bee operation.
All these steps have to be completed in order to produce the blocks containing larvae which become your

Backyard Pollinator

.