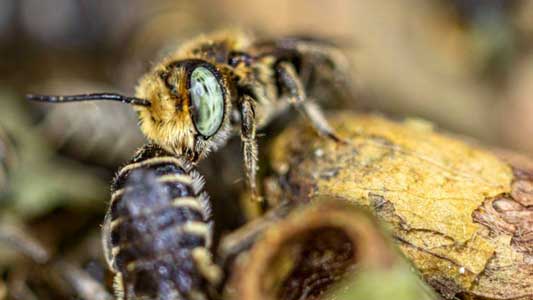 Backyard Pollinator Frequently Asked Questions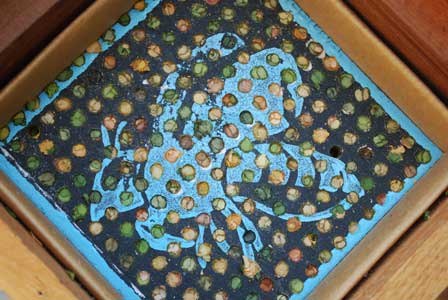 DO LEAFCUTTER BEES MAKE HONEY?
Leafcutter bees are solely for pollination, there is no honey produced.  Leafcutter bees are known to be very efficient pollinators for several reasons such as the way they carry pollen on the underside hairs of their bodies.  They do mix pollen and nectar to make a paste which is a food source for their larvae.
DO LEAFCUTTER BEES STING?
Leafcutter bees are a solitary bee, there is no hive or queen for the bees to defend. They have the ability to both sting and bite but generally do so only if trapped beneath clothing. In a commercial setting millions of leafcutter bees are placed into our alfalfa fields with farmers wearing NO protective equipment at all. The sting from a leafcutter bees is only about 25% the severity of a honey bee and there are no known fatalities from allergies to leafcutter bee stings.
HOW MANY BEES ARE INSIDE THE BACKYARD POLLINATOR?
There are approximately 200 larvae inside each nesting block.  Two-thirds of this number will be males and the other one-third are females.
HOW LONG DO LEAFCUTTER BEES TAKE TO HATCH?
When you receive a Backyard Pollinator the larvae are in dormancy.  It takes approximately 23 days at 30C to hatch the bees, at a lower temperature it will take longer.
WHEN DO I PUT THE BACKYARD POLLINATOR OUTSIDE?
When daytime temperatures are consistently above 20C and nighttime temperatures are above freezing, place your Backyard Pollinator unit outside to hatch the bees.
HOW LONG DO THE BEES LIVE?
The male bees live around 8 days from hatching, they mate with female bees and then die.  Female bees will fly, pollinate and lay babies for approximately 8 weeks.  They only function on warm days (above 20C) and will stay inside their nesting block on cool, cloudy days.
HOW FAR DO THE BEES GO AND WILL THEY STAY IN MY YARD?
Leafcutter bees will use a variety of flowers to gather pollen and nectar.  They will forage close by to their nesting block if sufficient food is available and up to 500m if pollen and nectar are scarce.
The 200 bees contained within your Backyard Pollinator is a very small amount for the area they can use as a home base.
The nesting block is familiar to them and with adequate food sources nearby they will almost always stay close and lay their larvae in your Backyard Pollinator for next year.
WHAT HAPPENS TO THE BEES IN THE FALL?
Throughout the summer the bees lay their babies inside cocoons in the holes in the nesting block.  As the holes fill up with cocoons the bees will "cap off" them off.  The adult bees will die and their larvae will wait safely inside the cocoons for the next growing season.
HOW DO I STORE MY BACKYARD POLLINATOR FOR WINTER?
The nesting block needs to be stored between 5C and 15C for the winter months.  This keeps the larvae safe from freezing temperatures but isn't warm enough for the larvae to begin developing and hatch at the wrong time.
The Backyard Pollinator can be stored in a refrigerator, in a cold room or in a semi-heated garage.