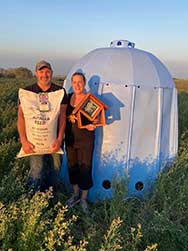 With the purchase of a Backyard Pollinator you are bringing amazing pollinator bees directly from our farm to your garden.
We're happy to share our knowledge and answer your questions to make sure these friendly, solitary bees will thrive in your backyard.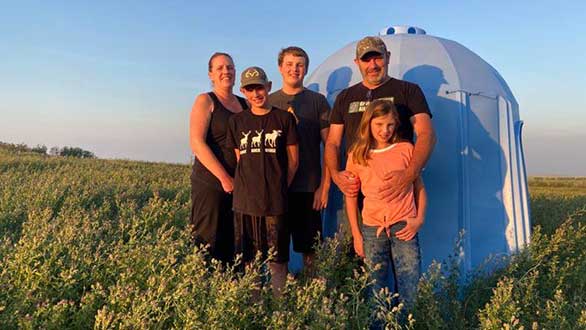 Both Jed and Kathy have agriculture in their backgrounds, Jed being raised on a 4000 head sheep property near Esperance, Western Australia and Kathy on a grain and cattle farm in central Saskatchewan.  In 2000 Jed and Kathy met in Australia and after their marriage in 2001 decided to settle in Kathy's hometown of Imperial, Saskatchewan to farm and raise their children.
Over the past 19 years Jed and Kathy have grown their operation from one field to 2000 acres of alfalfa seed production with 50 million leafcutter bees flying in their fields each summer. Their farm is a family operation, the kids help with all aspects of bee work both in the field and in the warehouse.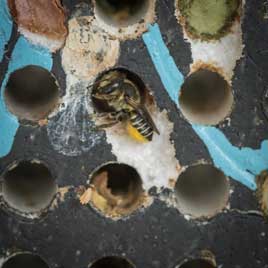 Above all, we want other people to have the opportunity to enjoy our small, friendly bees. We hope you will relax and enjoy their company in your backyard.
Perhaps your kids or grandkids will join you to observe the bees going to and fro with bits of leaf to build their cocoons or pollen on their tummies to make food for their babies.
Have some fun and enjoy your bees!!