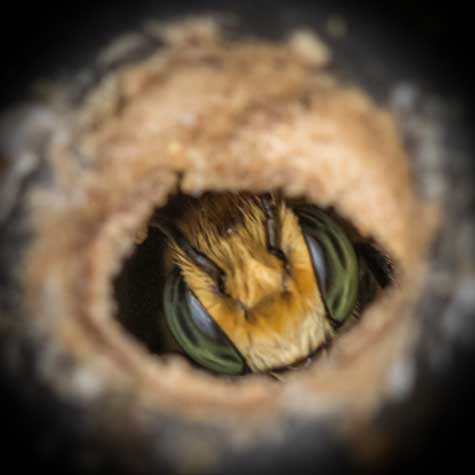 Things to Know About Hatching Your Bees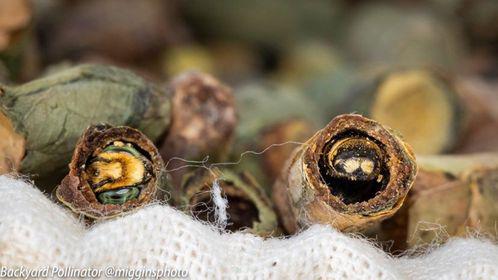 "When will my bees hatch?" This is the most common question from customers in the spring months.
As with most parts of nature the answer is quite variable. We know that you are anxiously awaiting the emergence of your bees and are excited to see them fly. Below are some guidelines to help you understand the process and to get the most enjoyment possible from your purchase.
If you receive a nesting block in early spring (March – May) store the block in a cool place until temperatures are consistently in the high 20's Celsius. Bring your nesting block out of cold storage in early May and keep it in your warm house to begin the development of the larvae.
Place the nesting block in a sheltered spot (under an eave) on the warmest side of your home, the south or east is typically best.
LEAFCUTTER BEE COCOONS NEED AN EXTENDED PERIOD OF WARM WEATHER TO FULLY DEVELOP & HATCH. Much patience is required!
If daytime temperatures are less than 30C development and hatching could take 4-6 weeks. On the Canadian Prairies it is best to put your nesting block outside in late May / early June and expect bees to emerge the first or second week of July.
LEAFCUTTER BEES ARE A SUMMER POLLINATOR. They will likely not hatch in time to pollinate your fruit trees but will benefit summer flowering flowers and plants. Once hatched, these bees need warm days to fly and pollinate (+25C is their favorite temperature), so the warm months of July and August are the best time to observe the activity of these bees.
Fully developed bees have to chew their way out of the cocoons so look for bits of leaf dust around the bottom of the block and holes in the caps at the end of the tunnels. As the bees chew their way out it sounds like Rice Krispies crackling. Hooray, your bees are ready to fly!