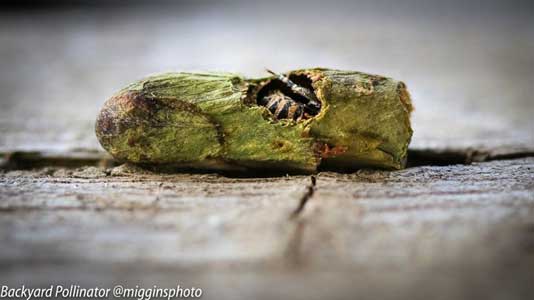 Things to Know About Hatching Your Bees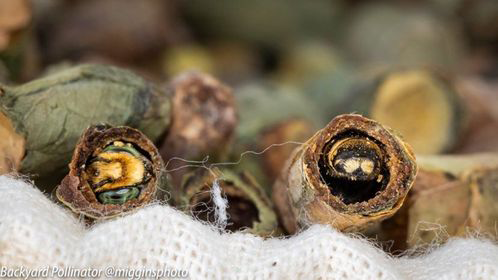 Throughout the spring our most common question from customers is "When will my bees hatch?".  As with most parts of nature the answer to this question is quite variable.  We know that you are anxiously awaiting the emergence of your bees and are excited to see them fly.  Below are some guidelines to help you understand the process and to get the most enjoyment possible from your purchase.
If you purchased your Backyard Pollinator nesting block or Bee Barn from our online shop the bee larvae will be contained within the nesting tunnels.  If you order the nesting block/Bee Barn in the early spring months (March - May) it can be stored in a cool place until temperatures are in the 20's Celcius each day.  If you want to bring your nesting block out of storage in early May and keep it in your warm house, this will help the larvae to come out of dormancy more quickly.
A Backyard Pollinator Bee Barn purchased from a retail location (such as Peavey Mart) will have an empty nesting block and a code on the bottom of the barn which enables you to receive a 25g bag of leafcutter bee cocoons in the mail.  For the 2021 season we will be pre-incubating these bags of cocoons and mailing them to customers in late May/early June.  This means that storage of the bags of cocoons will not be necessary, they can be hung outside to continue hatching as soon as you receive them.
LEAFCUTTER BEE COCOONS NEED AN EXTENDED PERIOD OF WARM WEATHER TO FULLY DEVELOP & HATCH.  Much patience is required!
When we hatch our bees for the fields it takes 23 days at 30C.  If the temperature is less than 30C it will take longer, sometimes much longer.  In your backyard (particularly if started in the month of May) this process can take 4-6 weeks.  On the Canadian Prairies it is usually best to not even put your nesting block outside until very late May / early June and to not expect hatching bees until the first or second week of July.
LEAFCUTTER BEES ARE A SUMMER POLLINATOR.  They will likely not hatch in time to pollinate your fruit trees but can be of benefit to summer flowering plants.  And once hatched, these bees need warm weather to emerge from their nesting block and fly (+25C is their favorite temperature), so the warm months of July and August are the best time to observe the activity of these bees.
Above all, we want other people to have the opportunity to enjoy our small, friendly, solitary bees.  We hope you will sit and relax and enjoy their company in your backyard.  Perhaps your kids or grandkids will join you to observe the bees going to and fro with bits of leaf to build their cocoons or pollen on their tummies to make food for their babies.  Have some fun and enjoy your bees!!